Federation of Peoples' Sustainable Development Cooperative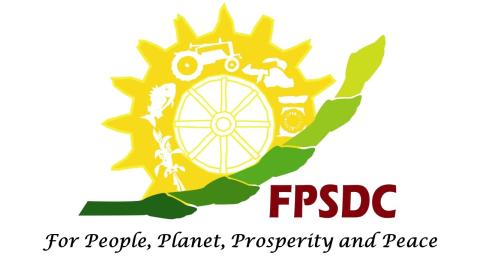 Website
Base of operations (headquarters)
Rm. 7A Future Point Plaza 3, 111 Panay Avenue, Brgy. South Triangle, 1103 Quezon City, Philippines
Who we are
The Federation of Peoples' Sustainable Development Cooperative (FPSDC) is a secondary cooperative with a total membership of around 170 cooperatives. Currently, its members come from Luzon, Visayas and Mindanao. Furthermore, FPSDC  is motivated by its principles anchored to the 4Ps of Sustainable Development – People, Planet, Prosperity and Peace.
What we do
Allied Businesses 

Financial Services

Socialized Credit: intended for sustainable and viable livelihood and community enterprise projects of Cooperatives, Non-Government Organizations (NGOs), or Peoples' Organizations (POs), which facilitate the generation of income and allows for re-investment of capital;
Socialized Investment Facility: designed to provide alternative investment opportunities to organizations to earn better returns for their money and at the same time, support development initiatives of the disadvantaged communities;

Cooperative Housing: to build sustainable communities with food security, renewable energy, livelihood opportunities while living in decent houses built with sustainable materials.
Handholding in Viable Enterprises (HIVE) – a complete social franchising facility that offers incubation of new enterprises and scaling up of existing enterprises, technology transfer, quality assurance, business development support, training/skills development, enhanced market access, and infrastructure support. 
Distribution and Logistics - aims to address the pressing marketing woes of FPSDC members as well as the positioning it in the mainstream market. Moreover, the D&L Facility operates through the value chain approach of doing business where FPSDC assist its members from the production up to the consumption of their products.  
Product Development and Quality Assurance - aims to assist members in coming-up with new product from concept to market and to help ensure that members will have quality products that passed the standards. FPSDC will support in product testing, packaging, acquisition of necessary certifications among others.
Strategic Development

Institution Building - FPSDC provides institution building services depending on the requirements of the members. IB Program is a strategy to facilitate and sustain the growth of FPSDC member-organizations so they will be in the best position to pursue and achieve their development goals and objectives.
Business Development and Other Programs 
Geographic scope
Asia-Pacific – Philippines